Understanding property values in any market, can be a complex task, especially in a market that's new to you. There are so many factors to take into consideration and many people don't know where to start. This article provides some tips for those wishing to purchase a new property in the UK and want to know the difference between UK property values and price.
Once you've identified a property you're interested in, it's time to do the research. Some buyers are happy to be guided by the seller's real estate agent, but others might want to adopt a more frugal approach and refrain from overpaying that extra £20k, £50k or £100k+ on the property, so as not to overcapitalise, because before you know it, you've overpaid by tens of thousands or even hundreds of thousands of Pounds, when that might have been avoided.
For those that would like to get a better understanding of the value, themselves, read on……..
There are various ways to research the value of a property, namely the comparison, profits, residual, contractors and investment methods.
The easiest and most effective method for me, is the comparison method. When using this method, you research and analyse property trades in the same property category, in the same area and apply those trends to the property of interest to you. It's advisable, for example, not to compare sales of detached houses, with those of flats, as that will skew your results.
Let's use the below advert for a flat in Earls Court, as our example (please note that this exercise is based on information available at the time of writing this article, being 20 June 21):
Figure 1:
Tip 1: Get the post code
Most agents don't show the post codes on the adverts, because that allows all and sundry to know the exact address of the property that they're selling, which they don't want. You'll learn the importance of using the correct post code to navigate your way around the UK, very quickly after arriving, so always pay attention to those details.
You can ask for the post code before you've viewed the property, even if only for directions, but you should definitely have it after your viewing. In the event that you're unable to get the post code, but you have the address, you can obtain the post code online. In this instance, after conducting some research, I have established that the post code is SW5 9TQ
Tip 2: Look at the comparable sales info
When using the comparison method, the easiest way to see what similar properties have been selling for, is to navigate to the property portals, like Rightmove. With the post code for your chosen property, you can isolate the trades in that same building section and see what the trend has been. You can widen the search and include other buildings on the same street, with a slightly different post code, but for now, we'll use the info of an isolated search, to see what the results are.
Below is part of the screen, reflecting the results from Rightmove: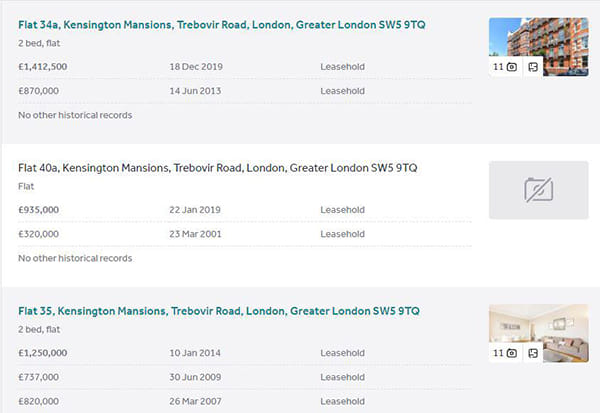 Figure 2:
This is a screenshot of the results from Rightmove. While it gives you a very basic idea of the trading level, it's not enough information to drill down, as they don't provide the size/extent of those properties, but merely reflect the address, sold price and date of sale. The platform also differentiate between units that were renovated, which had sellers in distress, or many of the other factors involved in determining a property's value, when sold, so this is only to get a rough idea. You can get a feel for the standard of finish/condition by viewing the photos in the sales history list, but the most important info for now, is the size. We must also remember that these records likely won't include trades for the last 3 to 4 months, as that information isn't yet available.
Tip 3: Get the size
There are several ways to obtain the size of a sold property, the easiest of which is by checking the size of a property when an Energy Performance Certificate was applied for. You can do that online, with the post code. Figure 3, below, is a screenshot of what that information looks like. You now know the size of those apartments, in square metres. Since the UK works with both metric and imperial systems, it's helpful to know the conversion. You multiply the square metres by 10.7639 and that will give you the square feet, so that you can analyse and compare.
Another way to get comprehensive details, including size, etc. is by referencing sources like HM Land Registry, where you can request further detail for a nominal fee.
When trying to understand UK property values vs price, there are also other value/price affecting factors to consider, such as aspect (which was it faces), floor height (what floor it's on), availability of outside space, right down to things like availability of parking, etc., in the case of flats/apartments, but it's difficult to quantify how much of an effect these factors have and that will require additional research, so we'll leave that for now.
Figure 3
Tip 4: Analyse the data
Once you've compiled all the information into a schedule, you'll have something that looks like this:
| | | | | |
| --- | --- | --- | --- | --- |
| Address: | Date of sale: | Price: | Size (sqft): | Cost/sqft |
| Flat 34A | 18 Dec2 019 | £1 412 000 | 1097.92 | 1286.07 |
| Flat 40A | 22 Jan 2019 | £ 935 000 | 1313.20 | £712.00 |
| Flat 35 | 10 Jan 2014 | £1 250 000 | 1076.39 | £1161.29 |
Figure 4
From these figures, you can start to get an idea of where flats in that particular section of that particular building have been trading, which starts to give you an idea.
In the above example, you can see that flat 40A is a bit of an anomaly there, so there are a number of factors that may have influenced that price. At a glance, you can see that it's larger than the others and size almost always has an impact on the cost per square foot, in that as you go up in size, so the cost per square foot typically comes down. There could be other factors at play here, but we're not going to worry about that, right now.
The way that we'd interpret this data, is that, at a glance, it doesn't look like there's been significant movement above the £1 200 per square foot price point, in the last several years. We also need to factor in current market conditions, so, as at June 2021, flat prices in that post code were down 11% since 2019, so it's probable that the current value is South of £1200 per square foot.
Now we go back to the property that we are researching, which measures 1088 (see figure 5, below) square feet and we know from the trading history, that a reasonable price range for this size property in that building, should possibly be around £1000 to £1100 per square foot. When we multiply that by the extent of the unit at 1088 square feet, we arrive at a rough value indication of around £1 088 000 to £1 196 000, which is more reflective of true market value and is substantially lower than the asking price.
The floor plan of our flat of choice:
Figure 5
With this information on hand, now you look at what's currently on the market in that same post code and apply your cost per square foot, to those properties, which will provide some perspective.
Tip 5: Get a 2nd opinion
As a buyer in the UK, any offer that you make, against a property, should be subject to a survey, wherein you can get the opinion of a professional on the condition and value of the property. If the survey comes back and the value in the survey is significantly lower than the offer that you made, then you may be able to renegotiate or withdraw from the sale, as an accepted offer to purchase on a property in the UK isn't binding until exchange.
Be warned though, that survey value may also be slightly subjective and might vary, depending on the surveyor, on the day. A survey might cost you between £400 to £900 per property and you might need to carry out more than one, if you don't end up completing on the first property that you had a survey on, but now, you should be in a position to have a basic understanding of the value of the property that you are interested in, before making your bid.
Tip 6: Make your decision
With this information, you can see the difference between value and price and are in a position to make an informed decision. There's no guarantee that the seller (called the vendor in the UK) will agree with our conclusion, as they added a 'markup' if you will, to our estimated true value above and their markup is based on their perception of the intrinsic value of the property. As a buyer, you have the option of meeting the seller's price expectations, or negotiating that price to a level more acceptable to you.
Always remember that capital appreciates based on true market value, rather than price paid, so if you pay too much, you waste your future potential capital appreciation on that overpayment portion to the seller, being the difference between real market value and the asking price.